What is Diff Lapping?
This is a difficult thing to explain but let's give it a go!
When a gear is manufactured it goes through many stages, machining and cutting a "blank" to begin with.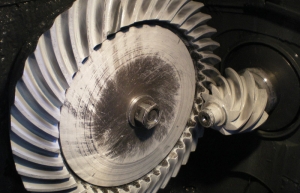 After the gears are cut they are left with machining marks which cause high spots on the gear surface. These high spots and irregularities can be a major cause of gear noise. Lapping of the gear set is the final process in it's manufacture and this involves a procedure where the Crownwheel & Pinion are set up in a gear lapping machine and run together. (As they would in your vehicle) with a specific Carborundum and Oil mixture which removes all high spots to obtain an even and consistent surface contact.
This same process also applies to a worn Crownwheel & Pinion and with our highly skilled operators we can provide an option for you to re-use your existing gear set rather than the sometimes expensive option, of replacement.
I hope this has given you an insight into the process, but please view our "Videos" for a demonstration of the lapping process.
Service Enquiry
We understand time is precious.
Use the form below to send us a quick enquiry. We're here to help.